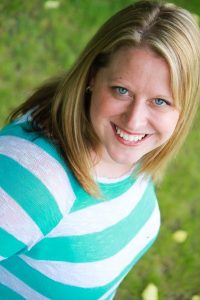 Christina Semonick M.S., R.SLP, CCC-SLP
I AM A SPEECH-LANGUAGE PATHOLOGIST WITH A PASSION FOR EVIDENCE BASED PRACTICE!
I often say that speech-language pathology chose me! Some of my earliest childhood memories are playing "speech teacher" with my older sister. She has autism and is minimally verbal, it has been wonderful to see her embrace the amazing advances in assistive technology and watch her find her voice!  My father had Parkinson's disease. I witnessed first hand as the disease progressed and impacted his voice and swallow and in turn his quality of life.
Communication is truly part of who we are! Swallowing is taken for granted in our culture and social lives!  I am truly blessed that my career allows me to improve the lives of others every day! 
I graduated from the University of Alberta in Edmonton, Canada in 2012 with an M.S. in Speech-Language Pathology. I hold a certificate of clinical competence (CCC-SLP) from the American Speech-Language Hearing Association (ASHA). I am licensed by the state of California and the province of Alberta to practice Speech-Language Pathology. I have taken multiple courses since graduation to advance my clinical knowledge.
Rehabilitation from injury and neurodegenerative disease was the passion that brought me to this wonderful profession, but I have been fortunate enough to work in a variety of settings. My experiences from education, home health, and inpatient care have afforded me with a strong foundation in both educational and medical speech-language pathology.
I am dedicated to ongoing professional development. Most of my time away from the clinic setting is spent either taking additional training or teaching. In addition to working clinically, I work as a lecturer: teaching coursework in communication sciences and disorders three terms per year.
I grew up in northern Canada and have had my share of ice and snow! In 2015, my wonderful husband, Marc, asked if I would like to leave the cold behind.  It was a very quick YES! We were off to the Golden State! After a few years in the Bay Area, we absolutely love the lifestyle and our new home state. This really is, the perfect place to live!
Now an experienced clinician, I founded Clarity Speech Therapy to provide high-quality specialized services where I can really tailor the goals and the therapeutic experience to individual clients and families. My hope is to break down the barriers to therapy. The mission is to educate clients and their families so that they can empower themselves to achieve their goals for clear communication and efficient swallowing to improve their quality of life.
I can't wait to start working with you!
Jennifer Lewis, M.S., CCC-SLP
I DON'T WANT TO WANT TO JUST GET KIDS EATING, I WANT TO TEACH FAMILIES TO LOVE MEALTIMES!
Since earning my Master's degree in Speech-Language Pathology from the University of Arizona I have specialized in pediatric feeding and swallowing disorders; working in hospitals, clinics and in families' homes. For over 10 years, I've been treating newborns to adolescents who struggle to eat due to premature birth, autism, tongue and lip tie, cleft lip and palate, severe picky eating, dysphagia and other developmental and medical disorders.
I'm trained in "The Get Permission Approach To Feeding Therapy," the "Beckman Oral Motor Protocol," "Tethered Oral Tissues Speciality Training" and infant massage. I have additional training in assembling and working with a medical team to determine the underlying causes of feeding and swallowing disorders.
My training and experience have led me to a whole body and family-centered approach to therapy. Feeding therapy is most successful when we carefully consider the whole child and not just his mouth. Centering therapy around the family ensures that you have the knowledge and tools needed to help your child not just eat but enjoy eating. And, most importantly, that your child eats best with you and not the therapist.
Feeding our children is a beautiful way of telling them, "I love you." Often when our children struggle to eat we feel like we've failed as parents, that we should be able to do something as simple as feed our child. But, when a child struggles to breast feed or take a bottle, refuses to transition to table foods, depends on a tube for adequate nutrition, can't properly chew or swallow food, eats a very limited diet or is afraid of new foods, feeding them is anything but simple.
The greatest part of my job is giving children and their caregivers confidence during mealtimes. Together we can come to understand why your child struggles to eat, come up with a plan to overcome those struggles and teach your child to enjoying eating.
Jennifer (she/her)